Even the Easter bunny stands up for a fair income!
Is the Easter bunny bringing fair chocolate to you and your colleagues this year? Oxfam Fair Trade offers a selection of delicious Easter chocolate of the finest quality, made in the Belgian artisanal tradition and with fair products from the South.
Oxfam Fair Trade collaborates with small local cooperations of cocoa farmers, paying them a fair price. To us that is the bare minimum. And when everyone gets what they are entitled to, chocolate tastes even better, doesn't it?
What's Bite to Fight about?
Does a product carry this logo? Then Oxfam Fair Trade pays an extra premium to the cocoa farmers, on top of a world wide applied faire trade price and premium.
This Oxfam premium closes the income gap for our cocoa partners and their families. This way they get a living income for their sustainable work and can gradually build a buffer for tougher times.
What is a living income? For starters, it is a human right. We stand with the farmers in fighting for that right. Today, the average farmer in the Ivory Coast, where Bite to Fight chocolate gets its cocoa, only makes a third of a living income. This gap can only be bridged when the chocolate industry in its entirety is ready to pay a fair price.
A sustainable environment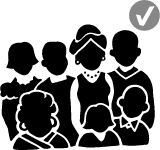 A future for the whole family!
Looking for an original gift package?
Take TUI for example: every year since 2014, they surprise their employees with fair trade chocolate from Oxfam Fair Trade. Nico Van gorp, sustainability manager at TUI explains:
"We choose fair trade, because it fits into our DNA. As an international tour operator we actively promote local and sustainable products, in all of our hotels worldwide."
Do you want to know more about Bite to Fight (for a fair income)?
Here you can learn all about our battle for sustainable chocolate: oxfamfairtrade.be/en/cacao.