Chocolate is the pick-me-up that goes down smoothly throughout the day. Better concentration is one of the proven advantages. When you choose Oxfam chocolate, in particular that of the Bite to Fight range, you're also making a strong statement: we care!
Oxfam pays a much higher price for the cocoa in this chocolate. With this, the Fairtrade pioneer wants to close the gap to a fair and living income for West African cocoa farmers.
Higher impact, same quality
Oxfam wants to use the 'Bite to Fight (for a fair income)' campaign to draw attention to the challenges the chocolate sector is facing. Where is the difference with the well-known chocolate bars? It's definitely not in the flavour – they still taste as good as ever! – but it is in the story and the extra effort behind the chocolate bars.
Bite to Fight, the pilot project in Ivory Coast
Ivory Coast supplies 40% of the world's cocoa, and yet these farmers are the poorest of them all. Moreover, the sector suffers from problems such as deforestation and child labour worldwide. Since 2016, Oxfam Fair Trade has been working with the Ivorian cocoa co-operative Ecookim. The group has 22 member co-operatives and are highly motivated. Because of this, they are the only ones in Ivory Coast who manage to export their cocoa. Member co-operative Canaan was founded by passionate chairwoman Virginie Gnako. She is strongly committed to positive change, including ecology and the role of women in cocoa farming. Since 2019, Canaan has been receiving an additional, flexible Oxfam premium on top of the Fairtrade minimum price and premium.
The co-operative spends this extra premium democratically on forward-looking, sustainable interventions, such as improving sanitary infrastructure, access to potable water, sustainable agriculture, and the diversification of cultivation, such as tomatoes. They all contribute directly to the quality and yield of the cocoa harvest! And that, in turn, allows cocoa farmers to earn a living income.
What's Bite to Fight about?
Does a product carry this logo? Then Oxfam Fair Trade pays an extra premium to the cocoa farmers, on top of a world wide applied faire trade price and premium.
This Oxfam premium closes the income gap for our cocoa partners and their families. This way they get a living income for their sustainable work and can gradually build a buffer for tougher times.
What is a living income? For starters, it is a human right. We stand with the farmers in fighting for that right. Today, the average farmer in the Ivory Coast, where Bite to Fight chocolate gets its cocoa, only makes a third of a living income. This gap can only be bridged when the chocolate industry in its entirety is ready to pay a fair price.
A sustainable environment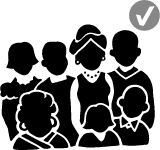 A future for the whole family!
Why is this necessary?
At the end of 2018, Oxfam-Wereldwinkels, as an NGO, helped to set ambitious goals in the 'Beyond Chocolate' partnership for sustainable Belgian chocolate. The chocolate industry, the supermarkets, the government administrations, and civil society then expressed their commitment to ensure by 2030 that the cocoa processed in Belgian chocolate comes from farmers who earn at least a living income. Indeed, recent research shows that the majority of West African cocoa farmers still live below the extreme poverty line. The income of an average Ivorian cocoa farmer would even have to triple to obtain such a living income.
Fairtrade International has already announced an increase in the minimum price for Fairtrade certified cocoa from $2,000 per tonne to $2,400 per tonne from September (and the Fairtrade premium from $200 to $240 per tonne). It is a first, important step towards closing the gap to a cocoa price that will enable a farmer who produces sufficient quality cocoa and can also count on enough adequate income from other sources to lead a dignified life.
Oxfam Fair Trade, the trading arm of Oxfam-Wereldwinkels, will, of course, apply the higher Fairtrade minimum price and premium in its Fairtrade chain, but will also go a step further. For each tonne of processed Fairtrade-certified cocoa from Ivory Coast, the Fairtrade pioneer will henceforth pay an additional premium of more than $1,000 directly to the cocoa co-operative.
"All too often, the price the farmers receive for their cocoa is still a blind spot in the sustainability strategies of many chocolate companies. As a pioneer in Fairtrade, it is our task to lead by example. We want to raise the bar."
Striking and informative packaging
We put our Bite to Fight chocolate bars in an eye-catching wrapper. It not only catches the eye, but you will also find an explanation of our unique project on the inside. Chocolate with a message! Discover the full Bite to Fight range here: