Win-win with Saint Nicholas. Delicious chocolate with fair cocoa!
What's Bite to Fight about?
Does a product carry this logo? Then Oxfam Fair Trade pays an extra premium to the cocoa farmers, on top of a world wide applied faire trade price and premium.
This Oxfam premium closes the income gap for our cocoa partners and their families. This way they get a living income for their sustainable work and can gradually build a buffer for tougher times.
What is a living income? For starters, it is a human right. We stand with the farmers in fighting for that right. Today, the average farmer in the Ivory Coast, where Bite to Fight chocolate gets its cocoa, only makes a third of a living income. This gap can only be bridged when the chocolate industry in its entirety is ready to pay a fair price.
A sustainable environment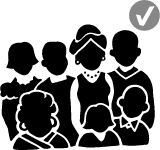 A future for the whole family!